** Wrap around care available 7.30am to 6pm https://www.nrps.co.uk/admissions/wrap-around-care ** For September 2022 applications, please contact us to arrange a private tour of the school** **sign up for summer term extra-curricular and enrichment https://www.nrps.co.uk/curriculum/enrichment-and-extra-curricular **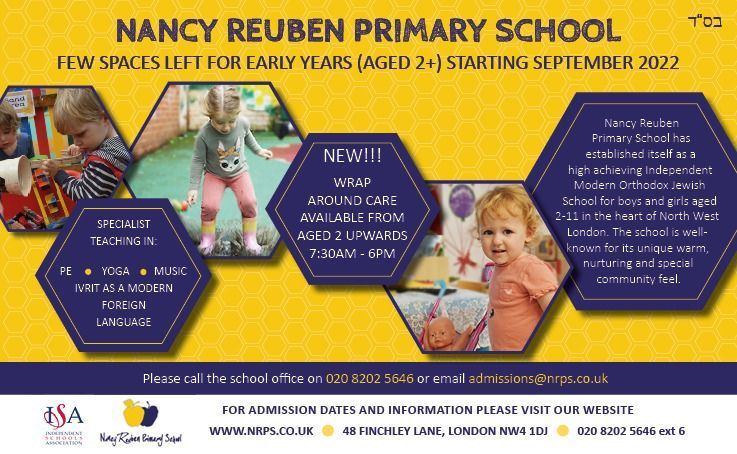 Few places left in our Early Years (aged 2+) for September 2022.
call the school
PERSONAL TOURS AVAILABLE THROUGHOUT THE YEAR
PLEASE CALL THE SCHOOL ON
020 8202 5646 option 6
TO MAKE AN APPOINTMENT
We will be delighted to welcome you to our lovely school.
Together We Grow!
Founded in 1999, Nancy Reuben Primary School is a flourishing, high achieving ISA Independent Orthodox Jewish School for boys and girls aged 2-11. The school is well-known for its special warm and unique family and community ethos. Our school serves a broad North West London catchment with pupils coming from areas including Hendon, Golders Green, Edgware, Borehamwood, Finchley and Hampstead Garden Suburb. Our families are from both Ashkenazi and Sephardi backgrounds.
Our pupils' excellent attainment and our very supportive and nurturing ethos, ensures that Year 6 pupils transition successfully onto secondary schools of choice where we know they thrive academically and socially.
Our Summer 2022 cohort of Year 6 pupils will transfer to Hasmonean Multi Academy Trust School for Boys and Girls, JfS and Yavne College. In addition, a number of pupils sat entrance exams for a number of schools and several pupils will be going to Habs Boys' and Immanuel College where a number of pupils have been awarded Academic or Jewish Life and Learning Scholarships.
The formal secular and Kodesh Curricula are broad, balanced and offer a rich mix of formal and informal learning opportunities throughout the year. Our extra-curricular and enrichment programme offers a fabulous range of lunchtime and after-school activities across thew week for both Key Stage 1 and 2 pupils. Our Year 5 class won the National Jewish Primary School inter-school Etgar (Jewish General Knowledge) Competition in Summer 2020 and again in Summer 2021. In 2020, a Year 5 pupil was a finalist in the annual ISA Poetry Competition. In 2019, 2020 and 2021 we have had winners in the Ivrit Spelling Bee Jewish Primary Inter-school Competition. There is also wrap-around care before and after school.
As a JNF Partner school, we offer exceptional opportunities promoting Israel Education. Our 1:1 class iPad Initiative in several classes brings outstanding computing and technological opportunities to our pupils. Our children are offered STEM workshops through external providers which include coding and Lego Robotics.
In Summer 2019, our Year 6 class went to Rome where they explored the convergence of Jewish history with classical antiquity with visits to the Colosseum, the Piazzas, The Great Synagogue, the Ghetto, The Arch of Titus as well as meeting up with students from the Jewish School in Rome. Covid prevented the trip in 2020 and 2021 but a trip is anticipated in 2022.
Pupils' good mental health and well-being is a high priority at NRPS and our strong pastoral support enables all children to flourish.
We invite you to come and meet the Head Teacher and see our school. You'll get a welcome like nowhere else!
Please explore our website but do come and visit. We look forward to hearing from you.
How To Apply For a Place at NRPS
Application forms are available online.
Download an Application Form here and then either send it back to us in the post or you can email it back.
We give you the opportunity to see the school before completing an application form – we will be delighted to show you around and give you the chance to see the school in action. In the event you were unable to visit our school on our Open Mornings, we would still be absolutely delighted to welcome you and give you a personal tour of the school and answer your questions. Please call the Admissions Team on 020 8202 5646 option 6 to arrange a tour.
Click here for further information about admissions.