Protected Characteristics and the Equalities Act 2010
Protected Characteristics
Different Families Education
How Children in Nancy Reuben Learn about Different Types of Family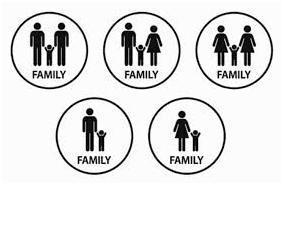 Children in today's world are expected to grow up understanding and being sensitive to the fact that there is a variety of family structures. This is also part of the Equalities Act 2010 and one of the Independent School Standards.
At NRPS, we discuss this reality with the children. We explain to our pupils that there are different kinds of families. They may be used to their own family set-up, while other children may live within a different structure.
We emphasise the importance of respecting other people, just as we would wish to be respected. We are all different from each other, and we need to respect others in order for the world to be a place where people can expect to go about their lives happily.
In discussing these issues we cross-reference to our Fundamental British Values Curriculum http://www.nrps.co.uk/curriculum/british-values from which the following are extracts:
"Respect others, respect those who are different from you, learn about others in order to understand and appreciate them. Recognise others' gifts and talents, appreciate and accept different cultures represented within the school and in the wider community. Understand and fairly evaluate others' viewpoints." (from the Yr.1 section)
"I must also remember that I am not only for myself, but that I live within a group, a society of people." (from the Yr.2 section)
"The rule of law protects individual citizens and is essential for their wellbeing and safety."
"The law allows people to hold different faiths and beliefs."
The law protects people from discrimination and anti-social behaviours so that citizens can live together in peace. Citizens are permitted to argue and defend different points of view, as long as respectful and peaceful behaviour is maintained." (from the Yr.3 section)
"We must understand that we live within society and have responsibilities towards others. Our actions should not be only for ourselves but also to benefit others. We must behave towards others with fairness, integrity, respect and concern for their welfare." (from the Yr.4 section)
"A good neighbour: a good neighbour can be even more influential than a good friend. Because of his close proximity, one has even more opportunity to learn from his good behaviour. We must learn to live side by side with our neighbours, in an atmosphere of peace and respect. We must care for our neighbours' property and personal welfare. We must exhibit understanding and sensitivity towards them, contribute towards mutual benefits and actively promote positive and cooperative relations." (from the Yr.5 section)
"We are proud and thankful to be able to benefit from the British values of democracy, the rule of law, individual liberty and respect for people of different faiths and beliefs. We must learn, develop and demonstrate skills and attitudes that enable us to contribute positively to life in modern Britain." (from the Yr.6 section)
In making connections with these general values of respect, tolerance, empathy and caring about the welfare of others, we highlight the fact that accepting and respecting others' life choices and life realities is just part of sharing the world with lots of different kinds of people.
Making explicit connections with the British Values Curriculum also reinforces the important point that being respectful of others in these ways is part of being a good British citizen.
We also cross-reference to our general Values Curriculum, in which several of the fortnightly school focuses have direct relevance. Examples are:
Being respectful
Kindness
Caring about others
There are different ways in which we deliver these messages to the children, including:
Class discussion
Assemblies
Circle times
We prefer the emphasis to be mainly positive, but we also ensure at these times to emphasise that discrimination in word or action is wrong and to be avoided.
It is the wish and aspiration of Nancy Reuben Primary School that our pupils grow up to be kind, respectful people who are well equipped to make positive contributions both within and outside their immediate communities. Learning to respect and understand others, including those who may have very different lives from their own, is both intrinsically important and practically necessary if they are to live and work in a context of rapidly increasing diversity.