"iFeel" NRPS Mental Health Podcast Series
"iFeel" Podcast
Podcast 1 - Facing Challenges
https://soundcloud.com/user-5…/1-ifeel-the-facing-challenges
Today, we are pleased to launch the iFeel podcast: a series of podcasts designed, scripted and managed by Year Five children and dedicated to improving Children's Mental Health- each episode will focus on a different theme. The first episode launched to coincide with Children's Mental Health Week 3rd - 9th February 2020, is about facing challenges.
iFeel Podcast 2 - Current Events
https://soundcloud.com/user-560282247/2-ifeel
Our 2nd iFeel Podcast, examines how children can deal with anxieties caused by current events and items in the news. Thank you so much to Mrs Rubens with a Kodesh viewpoint and to Mrs Gorji our expert therapist.

Here is an article that appeared in First News on 28th February 2020. The First News printed the wrong school name and have apologised for the error.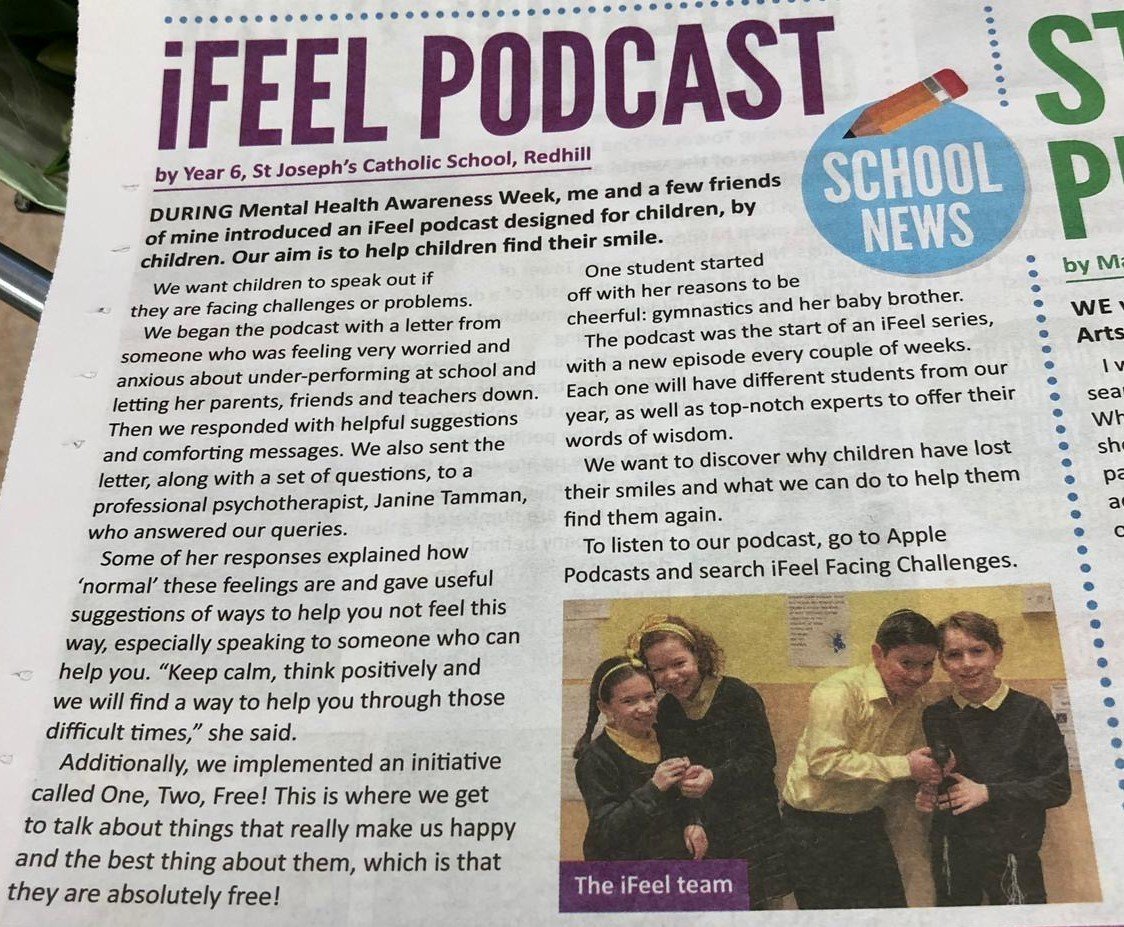 iFeel Podcast 3 - Change and transition
https://soundcloud.com/user-560282247/3-ifeel-transitions
We are so proud of the Year Five boys who did such a fantastic job on the latest iFeel podcast on the subject of transitions! Thanks also to Dr Ilan Ben Zion and to Rabbi Conway for their contributions.
iFeel Podcast 4 - Boredom
Year Five Children from NRPS discuss staying at home and how to deal with boredom with expert help from Rabbi Conway
https://soundcloud.com/user-560282247/nrps-home-from-home-ifeel
iFeel Podcast 5- Changing routines and how to deal with the challenges
In this episode, The Year 5 children and the Communications Committee explore, with child therapist Janine Tamman, the difficulties of changing routine and discover what we can do to adapt to it.