Important Information and Latest News June 2019
*NRPS still accepting applications for September 2019. Please contact admissions@nrps.co.uk *Our School Show this summer is Mary Poppins"
About Our School
Over the last 20 years, Nancy Reuben Primary School has established itself as a high achieving Independent Selective Orthodox Jewish School for boys and girls aged 2-11.
Our pupils come from Hendon, Golders Green, Finchley, Edgware, St Johns Wood and across North West London. We currently have families from Israel, France and Belgium. The school attracts families from both Sefardi and Ashkenazi backgrounds and our children are drawn from many different local communities and synagogues including Od Yosef Hai, Ner Yisrael, Magen Avot, Finchley (Kinloss) United, Hendon United, Edgware Adath and Edgware United. Uniquely among local Jewish schools, we have a Playgroup on site meaning that we cater for children from age 2. Children can start on or anytime from their 2nd birthday.
Since April 2017, the Senior Leadership Team and Governing Body have set out on a journey to make Nancy Reuben Primary a centre of innovative academic excellence in Kodesh and secular studies and a school of choice for the local community. Supported by a fabulous group of professionals on the teaching and support staff this team is really making an impact. Consequently NRPS is thriving and going from strength to strength.
In October 2017, Ofsted judged the school as a good school, noted the rapid improvements made and praised the vision and leadership of the Head Teacher and school leaders. Our smaller class sizes mean the relationships between staff and pupils are really excellent. We provide outstanding pastoral care to pupils and in 2019 are promoting well-being and mental health through a number of exciting new initiatives including the Norwood Pyramid Club, Year 3 Heads Up Kids, Butterfly Kidz Programme for Year 2 and a drop-in break time club for painting, drawing and chatting with a senior leader.
We are a community school and a family in every sense of the word. The school is well known for its warm and nurturing ethos. Our parent body is a close-knit group and goes out of the way to welcome new families and children. The PTA at Nancy Reuben run an amazing array of events through the year all of which support projects at the school.
Our pupils' excellent attainment allows them to go successfully onto secondary schools of choice. Our Summer 2019 cohort of Year 6 pupils will transfer to Hasmonean High School (Boys and Girls), Immanuel, JfS and Haberdashers Askes.
The secular and Kodesh Curricula are broad and offer a rich mix of formal and informal learning opportunities through the year. We offer a great new choice of before and after school enrichment clubs including Israeli dancing, Football, Art, ballet, Chess, Netball, Sports and Gymnastics.
In Early Years, we offer exciting activities including yoga, messy play, music and sport with specialist teachers. We are a JNF Partner school offering exceptional opportunities promoting Israel Education and we have launched an innovative 1:1 Ipad Initiative in 3 classes to bring outstanding computing and technological opportunities to our pupils. Our children have also had Lego Robotics and Drone workshops.
We invite you to come and see. We will welcome you most warmly and our Head Teacher and Senior Leaders will be delighted to show you round. You'll get a welcome like nowhere else!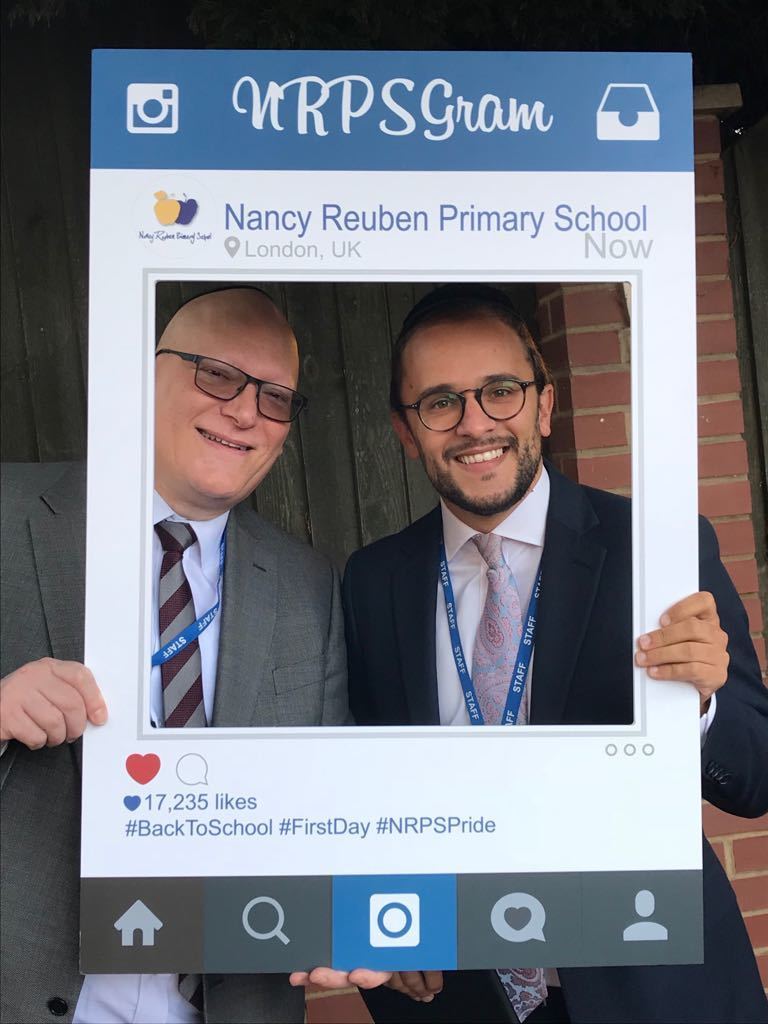 How To Apply For a Place at NRPS
Application forms are available online.
Download your Application Form here and then either send it back to us in the post or you can email it back. Alternatively email our admissions officer at admissions@nrps.co.uk
We give you the opportunity to see the school before completing an application form – we will be delighted to show you around and give you the chance to see the school in action.
Click here for further information about admissions. You can also call the school 020 8202 5646 and choose option 6 for admission enquiries.
GDPR Privacy Notice:
The privacy and security of your personal information is important to us. Please Click Here to see the NRPS Privacy Policy.