Important Information and Latest News
Dr Mark's Cool Maths Show for Reception to Year 6 on 19 October 2017
Open Morning for Prospective Parents on Tuesday 24 October 2017 at 9.30am Please register with
admissions@nrps.co.uk
PTA Coffee Morning 9am Thursday 26 October 2017 where parents meet the Senior Leadership Team informally. All parents welcome. Friday 24 November non-uniform tzedaka (charity) day to raise money for Water Aid **new 20 and 21 November Bikeability Level 1 Cycle Training for Year 3 **new** 22 and 23 November
Bikeability Level 1 Cycle Training for Year 4
The first NRPS Shabbaton is coming!!!! Thursday 23 November Challah Bake Friday night 24 November Kabbalat Shabbat and Jelly Kiddush Shabbat 25 November lunch and afternoon fun for everyone Wednesday 6 December flu vaccines for Years 4,5 &6 Please refer to the PTA Calendar for Erev Shabbat closing times after Sukkot
About Our School
Nancy Reuben Primary School was established in 1999 as an Independent Selective Orthodox Jewish School. Today we have over 200 children on roll aged 2 -11. Our pupils come from Golders Green, Finchley, Edgware, Hendon, St Johns Wood and across North West London. Uniquely among local Jewish schools, we have a Play Group and Pre-Kindergarten on site meaning that we cater for children from age 2. Our Playgroup and Pre-kindergarten classes are very popular and we advise early application. We will be offering wrap around care from September 2018 to cater for the needs of working parents.
In April 2017, a new Head Teacher Anthony Wolfson joined the school along with a new Head of Kodesh Mr Jeremy Richards. Both are highly experienced professionals. They were joined in September 2017 by Mrs Shelley Cohen as a teaching Deputy Head. Supported by a fabulous group of professionals on the teaching and support staff and a new Governing Body this new team is really making an impact. NRPS is thriving and going from strength to strength.
NRPS is a unique school. Our distinctive character is that we are a community school and a family in every sense of the word. The school is well known for its warmth and our uniqueness as a school lies in the fact that despite the diverse backgrounds and rich Sefardi and Ashkenazi traditions of our pupils, we have always functioned as a family where everyone feels valued and welcome.
Our parent body is a close nit group of people who go out of their way to welcome new families and children. The PTA at Nancy Reuben run an amazing array of events through the year all of which support projects at the school that really enhance provision. The most recent example of this is the new Early Years Foundation Stage Outdoor all weather classroom which is being professionally installed at the end of October 2017.
Nancy Reuben prepares pupils to achieve places at the best secondary schools in London. Our children's excellent attainment allows them to go successfully onto secondary schools of choice. Our Summer 2017 cohort of Year 6 pupils went on to Hasmonean, Immanuel, JfS and Haberdashers.
Our secular and Kodesh Curricula are broad and offer a rich mix of formal and informal learning opportunities through the year. To support this, since September 2017, we have offered a great new choice of before and after school enrichment clubs including Music, Art, Mad Science, Coding, Chess, Netball, Multi- Sports and Gymnastics. We hope to add to this from January 2018 with a Performing Arts Club and also Israeli Dancing.
We invite you to come and see. We will welcome you most warmly and the Head Teacher will be delighted to show you round and answer any questions.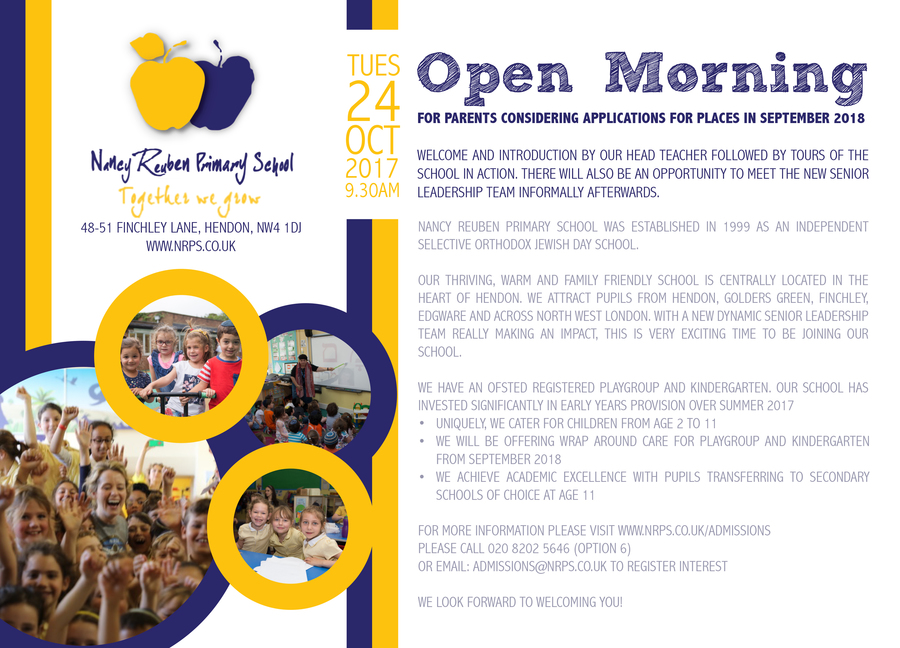 How To Apply
Application forms are available online.
Download your Application Form here and then either send it back to us in the post or you can email it back. Alternatively email our admissions officer at admissions@nrps.co.uk
We give you the opportunity to see the school before completing an application form – we will be delighted to show you around and give you the chance to see the school in action.
Click here for further information about admissions. You can also call the school 020 8202 5646 and choose option 6 for admission enquiries.